LMD Vacuum Excavation has placed substantial orders with MTS for new vacuum excavators. The commitments which reach up to the end of 2023, will reinforce LMD'S position as one of the largest vacuum excavator operators in the UK.
Mick Dysart is LMD Vacuum Excavation's Managing Director:
'The very first vacuum excavator in the LMD fleet was an MTS. We've recently refurbished it and it's still going strong. The LMD fleet is dominated by MTS vacuum excavators, and I'm more than happy to commit my business to the MTS brand.
Although it's always good to add extra capacity, our main driver at LMD is to continue to build on our reputation for having the most diverse and adaptable fleet of vacuum excavators in the UK. We've just taken delivery of the first MTS six-wheel-drive vacuum excavator in the country and added to our fleet of MTS vacuum excavators built on the Mercedes Benz Econic chassis. These are equipped with DirectVision cabs that provide superb all-vehicle visibility for works in busy city centres.'
Russell Fairhurst is Managing Director of Mammoth MTS, distributor of MTS vacuum excavators in the UK: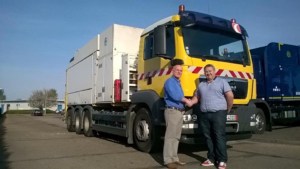 'I've worked with Mick from the very earliest days of LMD Vacuum Excavation and have seen at first hand the work and dedication taken to build the business to what it is today. Achieving ISO 9001 accreditation is a high-profile acknowledgement of Mick's ongoing dedication to quality and customer service.
These are exciting times in vacuum excavation. I look forward to working with Mick and his team over the years to come.'
https://lmdvacuumexcavation.co.uk/wp-content/uploads/2021/04/Mick-and-Russ-scaled.jpg
1920
2560
John Batty
https://lmdvacuumexcavation.co.uk/wp-content/uploads/2019/12/LMDVacuumExcavationLogo2.png
John Batty
2021-04-16 11:09:00
2021-04-16 11:09:00
LMD Vacuum Excavation places major orders with MTS for 2022-23