LMD's CitySafe Vacuum Excavator Achieves 5-Star TfL Direct Vision Rating
The Vision Zero road safety initiative
Vision Zero is the Mayor of London's groundbreaking initiative to eliminate all deaths and serious injuries on London's transport network by 2041.
One of the core components of Vision Zero is the Transport for London (TfL)Direct Vision Standard (DVS) for heavy goods vehicles (HGV) exceeding 12 tonne GWW. DVS came into force on 1 March 2021 and is policed through enforcement fines of £550/day for non-compliant vehicles entering Greater London.
How does the Direct Vision Standard work?
The Direct Vision Standard (DVS) objectively measures how much an HGV driver can see directly through their cab windows. The following video provides an overview of the standard:
The Direct Vision Standard has six ratings from zero stars through to five stars. To start with, all HGVs operating within Greater London will need a minimum one star rating. In 2024, this will increase to a minimum of three stars.
LMD's CitySafe urban vacuum excavator has the maximum five-star rating
LMD's CitySafe urban vacuum excavator is based on a Mercedes Benz chassis which incorporates an Econic DirectVision cab and additional safety features. LMD's CitySafe already has the maximum five-star rating.
The Econic cab on LMD's Citysafe provides a low seating position for the driver. Combined with the full-height glazed door on the passenger side, this provides the driver with direct eye-contact with cyclists, pedestrians and motorists. The full-height glazed door – from wheel to cab top – concertinas to ensure safe opening and the avoidance of potential accidents. Safety is also enhanced by a mirror system that extends the driver's field of vision to include the vacuum excavator's operating area and blind spots.
LMD will soon have three five-star vacuum excavators in its fleet
Two further vacuum excavators – a second CitySafe, and a 26 tonne vacuum excavator –  equipped with Econic cabs will join LMD Vacuum Excavation's fleet in 2021. This will make LMD the only vacuum excavation operator in the United Kingdom with three Econics in its fleet.
To find out more about CitySafe vacuum excavators, Econic safety features and the DVS please call LMD Vacuum Excavation on 01246 768331.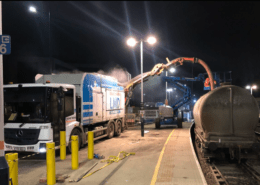 https://lmdvacuumexcavation.co.uk/wp-content/uploads/2020/11/Rail-1.png
719
1280
John Batty
https://lmdvacuumexcavation.co.uk/wp-content/uploads/2019/12/LMDVacuumExcavationLogo2.png
John Batty
2020-11-18 15:22:03
2021-01-18 09:02:41
Emergency removal of cement from derailed freight wagons at Sheffield station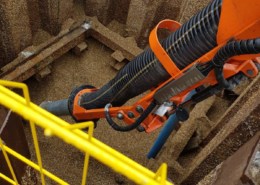 https://lmdvacuumexcavation.co.uk/wp-content/uploads/2020/04/London-Deep-Excavation.jpg
1600
1200
John Batty
https://lmdvacuumexcavation.co.uk/wp-content/uploads/2019/12/LMDVacuumExcavationLogo2.png
John Batty
2020-04-20 12:28:20
2020-04-20 12:28:20
Excavation of trenchless technology launch pit