New LMD six-wheel excavator designed to tackle all terrains
Six-wheel drive vacuum excavator can climb almost vertical slopes
LMD has taken delivery of one of the first six-wheel drive (6WD) vacuum excavators in the UK. Designed to access terrains that would defeat standard vacuum excavators – it can climb an almost vertical slope in crawler mode -the new vehicle is also packed with supplementary safety features specifically requested by LMD.
Chassis configuration used on all-terrain military vehicles
The 6WD has a Mercedes Benz Arocs Grounder chassis with an all-wheel drivetrain configuration with ensures that both wheels on each axle are capable of being driven simultaneously by the vehicle's engine. It is a configuration most often found on all-terrain vehicles used in military applications. The 6WD also has significantly increased ground clearance compared to a standard vacuum excavator.
You can see a video of the Arocs Grounder chassis in operation by clicking here.
Rotating suction nozzle
The 6WD comes with a Mega-Arm that provides fingertip hose control. The vehicle also features an 'Ike', a rotating suction nozzle so-called because of Ike 'Turner', former husband of Tina! The rotating nozzle can be used to agitate soil in difficult ground conditions such as heavy clays, or to loosen ballast on projects alongside railway lines. LMD's standard operating procedure has the 'Ike' locked out in the off position to ensure safety.
The standard nozzle on the 6WD is heavy duty PE pipe. The insulation provided by the PE protects the vacuum excavator and is designed for work in volatile environments where sparks are to be avoided. The 6WD also carries metal tubes for traditional vacuum excavation works.
Supplied to FORS Gold accreditation standard
As with all LMD vehicles delivered after 2018, the 6WD was supplied to FORS (Fleet Operator Recognition Scheme) Gold accreditation standard. Its management systems, its 'brain', share many similarities with the systems developed for the Mercedes Benz E-Class luxury saloon.
LMD specifies additional health and safety features
LMD places health and safety as its top priority. The 6WD includes 360˚ cameras to assist the driver, an additional emergency stop button on the side of the vehicle (in addition to the standard one at the rear of the vehicle), additional flashing lights front and rear, twin beacons at the rear and hi-vis steps.
The most diverse and adaptable fleet in the UK
Mick Dysart is LMD's Managing Director:
'The 6WD is an impressive addition to the LMD fleet. It provides further proof to our assertion that we have the most diverse and adaptable fleet of vacuum excavators in the UK, as well as one of the largest.
We already have small tracked excavators for when site access is limited or ground conditions are poor, and a tracked 'Parent and Child' unit which can provide nozzle control and vacuum power up to 150m from the 'Parent' vacuum excavator. The 6WD enhances our ability to operate in conditions which are 'out of bounds' to standard operators.'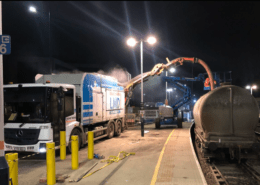 https://lmdvacuumexcavation.co.uk/wp-content/uploads/2020/11/Rail-1.png
719
1280
John Batty
https://lmdvacuumexcavation.co.uk/wp-content/uploads/2019/12/LMDVacuumExcavationLogo2.png
John Batty
2020-11-18 15:22:03
2021-01-18 09:02:41
Emergency removal of cement from derailed freight wagons at Sheffield station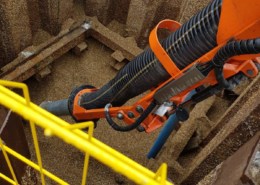 https://lmdvacuumexcavation.co.uk/wp-content/uploads/2020/04/London-Deep-Excavation.jpg
1600
1200
John Batty
https://lmdvacuumexcavation.co.uk/wp-content/uploads/2019/12/LMDVacuumExcavationLogo2.png
John Batty
2020-04-20 12:28:20
2020-04-20 12:28:20
Excavation of trenchless technology launch pit